---
Posted by Mark Kirschenbaum on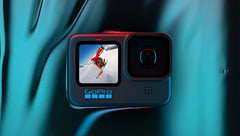 GoPro HERO 10 "Kongs" If it wasn't for the milestone edition number, one may consider this camera a "HERO 9+" as the hardware under the hood hasn't changed much. The only major change is the GP2 processor. Hardware-wise, almost everything else, including the sensor, is the same in this iteration. Of course, the power comes from the software advancements and the new powerful imaging pipelines.  With this latest processor, GoPro Inc. is able to step up the frame rates one notch for...
Posted by Mark Kirschenbaum on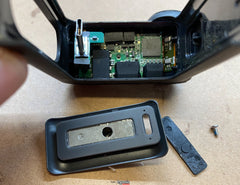 Built for Vloggers the GoPro Media Mod allows users to accessorize their GoPro with an external LCD and microphone. Code named "Borg" it finally shipped three months later than the original GoPro HERO8 release date. From our analysis, this delay was caused by the software lagging the hardware.  Features User configurable stereo audio input:   (Standard Mic, Standard Mic+, Powered Mic, Powered Mic+, Line In) Unidirectional built in microphones. Media Mod front or rear. Micro-HDMI output for monitoring, playback, & recording. Monitoring / Playback 4K (3840x2160@30Hz) maxRecording...
Posted by Mark Kirschenbaum on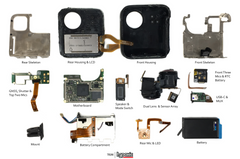 It's been a while since we performed a physical teardown of a GOPRO, but with the innovations in the new GOPRO MAX, a full teardown is warranted. This camera will allow you to get stabilized, immersive shots, with minimal post editing. Many other blogs have already reviewed the MAX's functionality, so we'll focus on the internal wizardry that makes it work. System's Components Housing The ABS plastic housing has a rubberized overmolding. It consists of two halves, sealed together by some sort of epoxy....
Posted by Mark Kirschenbaum on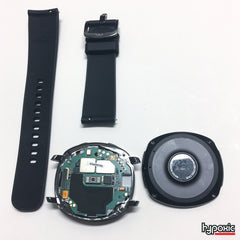 I recently picked up the Samsung Gear Sport for the possibility of skydiving with it, tracking my daily activity, and getting notifications from my iPhone. Temptation got the best of me, and around hour one, I decided to have a look what's inside.  Disassembly of SM-R600 (Samsung Gear Sport) Overall, disassembly is easy. Just remove the four, 3-wing screws located in each corner.  The bottom pops off with a gentle pry from a spudger. Obviously, be sure to clean off both mating surfaces before closing the unit...