---
Posted by Mark Kirschenbaum on
Although my research is not complete, I've ascertained enough details about the Socionext/GoPro GP2 that it's time to release my notes. Below is my working journal as I study an unknown, undocumented processor. There are definitely some big changes from the GoPro GP1 processor, but the codebase remains roughly the same.  I suggest reading the GoPro GP1 Research before continuing on as this blog builds upon that device. Also, be sure to read the teardowns of the GoPro HERO11/Mini and the GoPro...
Posted by Mark Kirschenbaum on
Two cameras, similar motherboard, and one code base The two new offerings from GoPro take the tested GoPro HERO10 platform and make some minor changes that improve the camera dramatically. Both cameras have very similar motherboards and share the same code base. The Mini is missing the GPS daughterboard which includes the stereo mics.  "Tall" 8:7 aspect ratio 27.5 MP sensor allows for better stabilization with punchedout 16:9 or even 4:3 format video. The extra sensor room allows for larger...
Posted by Mark Kirschenbaum on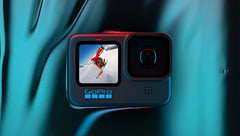 GoPro HERO 10 "Kongs" If it wasn't for the milestone edition number, one may consider this camera a "HERO 9+" as the hardware under the hood hasn't changed much. The only major change is the GP2 processor. Hardware-wise, almost everything else, including the sensor, is the same in this iteration. Of course, the power comes from the software advancements and the new powerful imaging pipelines.  With this latest processor, GoPro Inc. is able to step up the frame rates one notch for...