---
Trunk's Technical Blog
Posted by Mark Kirschenbaum on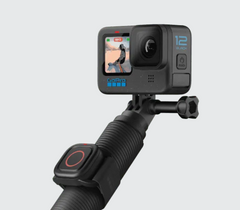 GoPro HERO12 Black "Red Bluff" As in years past, this article is a quick and dirty rundown on the GoPro HERO12. It mainly focuses on the hardware, but touches on the firmware changes and the future features. I point out my opinions where they exist, but this article's purpose is to be a factual review on GoPro's latest offering.  $299.99usd with subscription or pre-order$399.99usd Full Retail HW Version: 335-31959-000-2 Same hardware as GoPro HERO11 without GPS antenna nor IC 71.8W x...
Posted by Mark Kirschenbaum on
The most dangerous movement a videographer can do is transition from the floating side of the formation to the diving side. Sometimes due to sun or just the formation itself we have to make this transition. If this is necessary, you must pay close attention during the dirt dive and exit frame in particular. Note the jumpsuit and helmet colors of all the people you will pass.
Posted by Mark Kirschenbaum on
Although my research is not complete, I've ascertained enough details about the Socionext/GoPro GP2 that it's time to release my notes. Below is my working journal as I study an unknown, undocumented processor. There are definitely some big changes from the GoPro GP1 processor, but the codebase remains roughly the same.  I suggest reading the GoPro GP1 Research before continuing on as this blog builds upon that device. Also, be sure to read the teardowns of the GoPro HERO11/Mini and the GoPro...
Posted by Mark Kirschenbaum on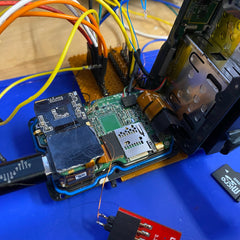 In my attempt to resurrect a bricked GoPro Camera, I've studied the bootup and update sequence of the Socionext GP1. This processor is a SC2000a with possibly some changes by GoPro. Socionext's internal name is M10v Milbeaut DSC Processor.  Cores Cortex M0 Supervisor running at 100Mhz Quad ARM Cortex-A7 Running at 600Mhz LPDDR Package on Package 1GB HERO6 or 2GB for HERO[7,8,MAX,9] RTOS running on three cores, Linux on one. AMP mode Architecture of Cortex-A7 I've dumped the CPUIDs of...
Posted by Mark Kirschenbaum on
Two cameras, similar motherboard, and one code base The two new offerings from GoPro take the tested GoPro HERO10 platform and make some minor changes that improve the camera dramatically. Both cameras have very similar motherboards and share the same code base. The Mini is missing the GPS daughterboard which includes the stereo mics.  "Tall" 8:7 aspect ratio 27.5 MP sensor allows for better stabilization with punchedout 16:9 or even 4:3 format video. The extra sensor room allows for larger...
---