---
Posted by Mark Kirschenbaum on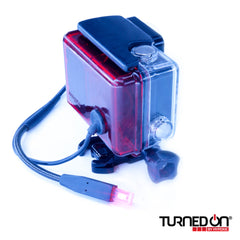 We spend a lot of time working on the interoperability between our products and GoPro Cameras. In doing this we uncover some features that may or may not make it into future products. Here are some of the bigger points: Multi Cam The camera's firmware enables multiple GoPro HERO4s to be synchronized (genlocked) to prevent inner-frame latency issues between cameras. This enables bullet-time and 360deg cubes to capture the exact same instant on all cameras. It also simplifies the post operations since...
Posted by Mark Kirschenbaum on
GoPro HERO4 Session / Codname: Rocky Point Firmware version: HX1.01.01.00 (Based on GoPro HERO3+ Silver code base ARM/Thumb)Linux/ arm 2.6.38.8 Kernel Processor: Ambarella A7L_BUB (core freq: 156mhz, arm freq: 600mhz, idsp freq: 133mhz) Sensor: On Semi AR0835HS - High speed sensor supporting 8 Mp (4:3) and 6 Mp (16:9) up to 60 fpsFlash: Micron MT29F2G08ABAEA - SLC NAND Flash Parallel 3.3V 2Gbit 256M x 8bitDDR: 2GB, 377Mhz, LPDDR2 Power Management Unit: AMS AS3715 Accelerometer: bma2x2 - Bosch Sensortec MEMS accelerometerA2D: TLV320 - Automotive Catalog Stereo Audio CODEC, 8- to 96 kHz config.gz (Linux version 2.6.38.8) (See Open...