---
Posted by Mark Kirschenbaum on
Although my research is not complete, I've ascertained enough details about the Socionext/GoPro GP2 that it's time to release my notes. Below is my working journal as I study an unknown, undocumented processor. There are definitely some big changes from the GoPro GP1 processor, but the codebase remains roughly the same.  I suggest reading the GoPro GP1 Research before continuing on as this blog builds upon that device. Also, be sure to read the teardowns of the GoPro HERO11/Mini and the GoPro...
Posted by Mark Kirschenbaum on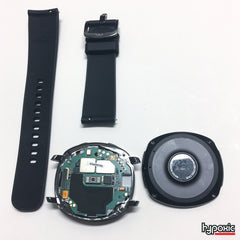 I recently picked up the Samsung Gear Sport for the possibility of skydiving with it, tracking my daily activity, and getting notifications from my iPhone. Temptation got the best of me, and around hour one, I decided to have a look what's inside.  Disassembly of SM-R600 (Samsung Gear Sport) Overall, disassembly is easy. Just remove the four, 3-wing screws located in each corner.  The bottom pops off with a gentle pry from a spudger. Obviously, be sure to clean off both mating surfaces before closing the unit...