---
Posted by Mark Kirschenbaum on
Although my research is not complete, I've ascertained enough details about the Socionext/GoPro GP2 that it's time to release my notes. Below is my working journal as I study an unknown, undocumented processor. There are definitely some big changes from the GoPro GP1 processor, but the codebase remains roughly the same.  I suggest reading the GoPro GP1 Research before continuing on as this blog builds upon that device. Also, be sure to read the teardowns of the GoPro HERO11/Mini and the GoPro...
Posted by Mark Kirschenbaum on
Two cameras, similar motherboard, and one code base The two new offerings from GoPro take the tested GoPro HERO10 platform and make some minor changes that improve the camera dramatically. Both cameras have very similar motherboards and share the same code base. The Mini is missing the GPS daughterboard which includes the stereo mics.  "Tall" 8:7 aspect ratio 27.5 MP sensor allows for better stabilization with punchedout 16:9 or even 4:3 format video. The extra sensor room allows for larger...
Posted by Mark Kirschenbaum on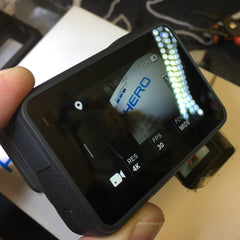 We purchased a GoPro HERO (2018) the other day and after some cursory inspection we realized this camera is actually a GoPro HERO5 with the firmware crippled. To confirm our hypothesis, we decided to trick the camera to loading the GoPro HERO5 software. It loaded properly and all the features were unlocked. Even GPS and 4K at 30fps work great! Some people were worried that we're overclocking the parts. After inspecting the device tree, we can confirm the processors and DSPs between the two...