---
Technical — hardware hacking
Posted by Mark Kirschenbaum on
Two cameras, similar motherboard, and one code base The two new offerings from GoPro take the tested GoPro HERO10 platform and make some minor changes that improve the camera dramatically. Both cameras have very similar motherboards and share the same code base. The Mini is missing the GPS daughterboard which includes the stereo mics.  "Tall" 8:7 aspect ratio 27.5 MP sensor allows for better stabilization with punchedout 16:9 or even 4:3 format video. The extra sensor room allows for larger...
Posted by Mark Kirschenbaum on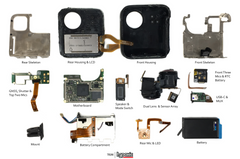 It's been a while since we performed a physical teardown of a GOPRO, but with the innovations in the new GOPRO MAX, a full teardown is warranted. This camera will allow you to get stabilized, immersive shots, with minimal post editing. Many other blogs have already reviewed the MAX's functionality, so we'll focus on the internal wizardry that makes it work. System's Components Housing The ABS plastic housing has a rubberized overmolding. It consists of two halves, sealed together by some sort of epoxy....